The 40th Dartmoor Folk Festival took place on the 11th, 12th & 13th August 2017 in the village of South Zeal near Okehampton in Devon. We had an absolutely cracking weekend of concerts, ceilidhs, workshops, song and music sessions, a children's festival, craft displays, folk service, a Dartmoor ramble and much more. (Scroll down to see a selection of photos)
Check out the ARTISTS page and other tabs to see what you missed, or to remind yourself of what a fab weekend you had if you were there!
Next years dates will be 10th, 11th & 12th August 2018. Tickets will be on sale soon, both electronically and via mail order. Come back later for details or keep an eye on our social media feeds for updates. Facebook, Twitter - @dartmoorfolk and Instagram - dartmoorfolkfestival.media
Please don't forget that DOGS are not permitted at any festival venue including the recreation ground. They are welcome on the festival campsite on a lead.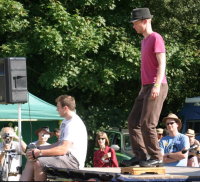 STEPDANCE NEWS. Folk music charity Traditional Arts Support in the Community (TASC) receives National Lottery funding to carry out research into the traditional step dancing of Dartmoor. This project is now well under way. If you have any memories of Dartmoor Stepdancing, or photos / videos we'd love to hear from you. Drop us a line via the Contact page. For details click here to visit the project website.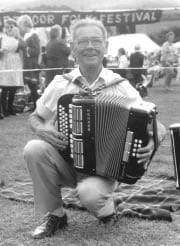 In the words of the late Bob Cann BEM (the festival's founder) "Yer tiz again - zongs, music and danzin' from dear ole Dart-i-moor! Welcum to this gurt weekend 'ope twill run proper zuent!" Proper Job.
Photos courtesy of Alan Quick.